TFMB FRESH BAKED BREADS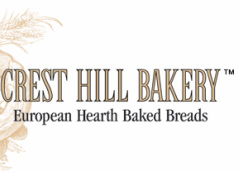 For over 35 years Dave Neville, owner and founder of Crest Hill Bakery, has been baking the best bread in the area and we are proud to bring it to local farmer's markets each week! Not only are Crest Hill's breads delicious, they are handcrafted with only the finest ingredients and hearth-baked in a French stone oven. No bleached flour, preservatives or artificial anything

---
BREADS
BREADS

Artisan Baguettes
Harvest Whole Grain with five different seeds (our most popular bread)
Whole Wheat and Whole Grain Pullman Sandwich Loafs
Whole Wheat Two Olive Round (Kalamata and Green Olives)
Whole Wheat Raisin Pecan
New York Rye with Caraway Seeds
Artisan Ciabatta
Crusty Italian Loaf
Sourdough Round
Pain de Campagne
Challah

Seasonal/Specialty Breads
Each week we offer exciting and different specialty breads. This Weeks Specials are:
Whole Wheat Dried Cranberry Walnut
Black Russian with Poppy Seeds
Fresh Rosemary with Olive Oil
Asiago Boule

Past Weeks Specials include
Portuguese Sweet Bread
Sweet Cinnamon Raisin
Sesame Semolina
Rosemary Lemon Sourdough
Fresh Jalapeno and Cheddar Boule
Parmesan and Herb Focaccia
Pumpernickel
Round and Raisin Challahs for Rosh Hashanah and Yom Kippur
CHALLAH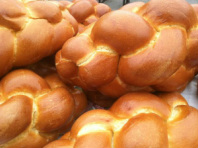 Our delicious Challah bread baked fresh every morning comes plain (as featured in the picture to the left) or with raisins. It is our most aesthetically pleasing bread and tastes as delicious as it looks.

---
HARVEST BREAD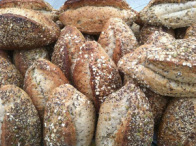 Our Harvest Whole Grain Bread comes with 6 different types of seeds and grains including flax and pumpkins seeds. It is our most popular bread!
---
OLIVE BREAD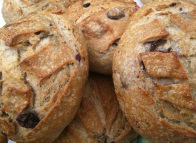 Our delicious Olive Round Bread is a whole wheat two olive bread featuring both green and black Kalamata olives. It is a huge fan favorite!
---
CRANBERRY WALNUT BREAD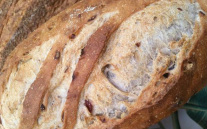 Try our extra large Cranberry Walnut Bread which features dried cranberries and walnuts. Pick one up soon before this seasonal loaf retires in the spring.
---